Watering your lawn can be a tiring task, not anymore with those sprinkler heads you'll be doing it in no time.
Our Best recommendation:
Best overall sprinkler: Rain Bird Brass Sprinkler Head
Best sprinkler +animal control: Orbit Yard Enforcer Motion Activated Sprinkler
Alternative options
On a tripod: Orbit Zinc Impact Sprinkler on Tripod Base
Cheapest option: Kadaon Garden Sprinkler
Another good option: Melnor Turbo Oscillating Sprinkler 
Types and patterns of sprinkler heads:
There are many types to choose from; some of them include pop-up sprinklers or impact sprinklers.
Pop up sprinklers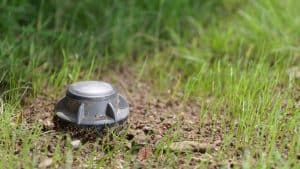 They install directly on lawns and goes down to the soil level, the best thing about them is that there is no risk of being tripped on by your kids or pets.
Pop up sprinklers are armed with nozzles that break from the soil and automatically rise when triggered by the controller, mostly used in locations where a lawnmower can damage or in a place where you don't want people to be tripped on them.
Impact nozzles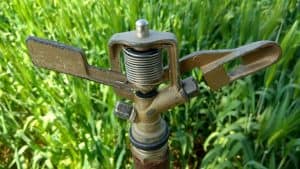 Impact nozzles on the other hand are built like a tank, more durable, and are good at handling pressure, and they stay fixed on top of the grass level, make sure you put them in a strategic place so that they reach the most of your garden without being on the way to prevent tripping children.
Known for the noise they create by the impact hammer that knocks on a fixed plate, they operate based on Water-pressure which collect from the head and activates the hammer to move aside and cover the maximum length of the yard in an even application in all sides.
As an instance 360degree coverage will be utilized at the exact middle of a yard. Use a 180-degree in the way that you will cover one part of the yard. There are also 90-degree sprinklers that you may use for your corners.
where not to use the impact nozzls:
Not ideal in case you've got low water pressure
May not be Acceptable for fresh seed's backyard due to the high pressure water output
Make Sure That You Are not wasting water spraying on a sidewalk. if so you can quickly fix them by hand until you achieve your sweet spot.
sprinkler rotors or rotor heads :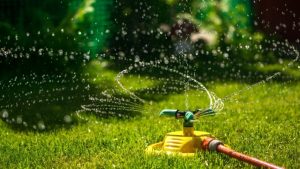 Medium to large yards, you need a water system with a pressure that exceeds 30 PSI for good efficiency, a small one could be ideal for a 15 to 50 feet lawn
Characteristics:
slow water spraying, suitable for slow drainage yards
Their output is a stream of water and is a good alternative for sprayers when facing windy situations.
oscillating sprinkler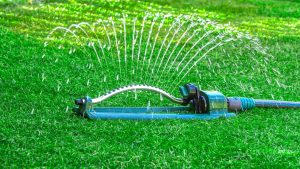 this option comes with the form of a tube with many holes punctured on its surface and can cover a broader part of your yard it is mostly popular and loved by kids and pets.
It is activated automatically as soon as the water pressure is detected:
As water is sprayed by the holes, the pressure will push the sprinkler tube to maneuver backwards and forwards which is the difficult factor with this sprinkler because you simply want the right quantity of water pressure indicated by the producer if you would like the product to make use of at optimum ranges.
If the water pressure is just too low, the sprinkler won't spray a sufficient amount, when the pressure is too excessive, it's going to spray far in the distance.
Features and benefits of each product:
A traditional favorite with classic impact sound

Brass, bronze, and stainless steel construction lasts longer than zinc sprinkler heads

Easy to install and adjust with infinite pattern adjustment, preventing side splash onto buildings and walkways. 

Actual throw distance depends upon your home's water pressure and flow.
A simple twist of the diffuser screw to create a smaller or larger water droplet depending on preference.

Covers Up To 5200 Sq Ft which is ideal for lawns, gardens, and planting beds.
An easy inexpensive way for kids to have fun outdoors.
Three Arm + ABS Plastic Rotary Lawn Sprinkler head.

The patented design saves water by adjusting the water density, size, and scope.

Connect the water joint to the connector and tap which makes it easy to use.

Fixed in the bottom to the grass.

Coverage Area: 3000 sq. Ft. Direct or 45 degrees which is great for watering medium to larger size yards.
20 Precision nozzles provide maximum coverage of large lawns or gardens up to 4500 Sq. Ft.

Quickly connect and disconnect the sprinkler head with a Quick Connect Product Adapter 

Prevent over or under-watering if combined with water timer
3-way adjustment: for the width and range of the watering pattern to cover the whole yard or a narrow flower bed.
Range Adjustment

changes the LENGTH of the pattern

TwinTouch Width Adjustment

allows Independent Side Adjustment

Zoom Control

changes the water flow to adjust the size of the coverage pattern
This type of sprinkler heads is not just for watering but rather for pests and animal control 
The Yard Enforcer is a motion-activated sprinkler that combines sound, water, motion and ingenuity as a defense to the landscape, to deter deers, birds, cats, dogs, skunks, opossums, and other similar pests and animals without hurting them.
The powerful infrared sensor can detect intruders from up to 40 feet away and has a wide viewing angle of 120 degrees, that's 1600 square feet of protective coverage from a single unit.

Includes sensing technology for optimum water and battery conservation

 Sensing technology learns the difference between trees and animals, so it will not activate every time the wind blows.

has a 30-minute watering cycle that enables it to function as a timed sprinkler

to water your garden.

has the ability to connect additional Enforcers to increase the impact area

you have also the option add an impact sprinklers downstream of your Yard Enforcer, to

 be triggered by the sensor as well.
This sprinkler has the ability to spray up to 90 feet in diameter, covering 6,360 square feet when set to a full circle

The brass construction can withstand high water pressures and severe weather conditions 

 Easily adjust spray coverage from a partial section to full 360° watering

Use the deflector shield and diffuser screw to alter the stream and change the spray distance radius.

stable tripod base that extends up to 48 inches to allow for adjustments as plants grow

Gooseneck connection makes it easy to connect to your hose.

It towers over tall plants, and features a brass impact head that's capable of spraying distances up to 100 feet.

This tripod has been designed to resist tipping, legs can be firmly planted on the ground, resisting the force of the powerful spray created by the brass impact head.
Know more about sprinkler heads
Why it is good to have Sprinkler Head?
A safe system to use especially the ones that can be planted underground.
You can choose a portable sprinkler head to move it around depending on your watering needs.
Easy to set up and work without intervening.
Fun to use and could serve as an activity for your kids during the summer days.
Can be set with a timer to water your garden at your chosen time.
Set it and forget it by setting up the duration and water amount.
Efficiency factors you should be looking at:
Depending on the size of your garden, you can choose from the different heads
Consider fixed spray sprinkler for small gardens it can work efficiently
For medium to extensive gardens, you can select a multi-stream sprinkler
Find the most adjustable. 
Try to find the most adjustable and the one that can rotate to make sure it fits your garden needs to water more space if you wish.
The optimum sprinkler head needs to regulate to your actual water pressure,
be sure you set up sprinklers on the appropriate distance from each other
Overwatering, same as under watering, results in unhealthy grass
depends upon the form of your yard
In any other case, you'll probably find yourself wasting water on the drive way.
The right capacity for your needs
The worst scenario is buying the best fitting product and figuring out that it doesn't cover the whole garden when you finally place it. To avoid that, make sure you check the range of it and maximum cover that it provides and buy more coverage than you need, to cover up for the lack of water pressure.
Distance from the soil:
You can measure it from the top of the nozzle to the base of the rising hole.
The mechanical structure is connected to the sprinkler timer that controls the opening, running, and closing of the whole automatic system. Some timers are also equipped with sensors to stop watering when it is raining.
Whatever you choose, make sure you find the sweet spot for your watering needs. Too much pressure can affect wastewater by providing more than the lawn needs. Too little pressure and your plants and trees die due to the lack of water.
If you want to water your cultivated plants, check if they support having wet leaves, some varieties won't survive and attract diseases.
So make sure you won't use a spray head for that part of your plantings and use, for example, drip irrigation or a bubbler sprinkler head instead.
For lawns, sprayers work best at covering the whole space.
For bushes it's better to use Bubblers to be able to give an adequate quantity of water.
For vegies and flower beds it's better to make use of drip irrigation or soaker hoses.
The material :
The best material available for sprinklers is brass; it is usually used at creating impact sprinklers because of its sturdiness, has an elegant look, lasts longer, but this comes with more cost.
The second best choice would be metal; metal is prone to rust, which could harm its functionality. To prevent that, buy one with a protective coating.
The third choice is the most affordable, and it's plastic. If you are going to buy a plastic sprinkler, look for the one that has the strongest built that doesn't seem to break with pressure
sprinkler that's made with brass of long-lasting zinc
Additionally, search for sprinkler heads with adjustable screws that will let you fiddle with the spray output.
Become a master of the Rubik's Cube with this online tutorial. Learn how to solve the cube with the beginner's method!