It is often hard to know which plant nutrients are needed and how to get the right fertilization to cover the deficiencies, especially when growing heavy eaters like tomatoes so what are tomato plant nutrient requirements? And how to cover deficiencies?
-Vital requirements for every plant (including tomatoes) are Nitrogen, Phosphorus, and Potassium (NPK). The plant needs them as the pillars of its growth; their level needs to be tested and replaced by compost or fertilizers.
-Supporting nutrients: (calcium, magnesium, and sulfur) their deficiencies or surplus might cause some serious diseases, as they also affect pH level when they are down and could be replaced by amending them into the soil.
-Micronutrients: (Zinc, Iron, Boron, chloride…) are used in small amounts and serve various purposes make replace them by adding mulch grass clippings and top level organic coverage.
Now that you know in general what the requirements for tomatoes are. Let us go deep into each one of them and see which one you should add for your plants' different stages and how to avoid different diseases.
How to get the right nutrients for each stage of the tomato plant growth?
How do you know which nutrient has deficiencies?
How to bring Nutrients back to the soil?
How to replace each nutrient?
How to get the right nutrients for each stage of the tomato plant growth?
To get your tomato plant the nutrients needed for each stage of their growth, you will need quality soil, well mixed with compost, to begin with, and bring requirements such as fertilizers to other solutions:
Seed starting:
Seeds will not need fertilizers to germinate and start growing seedlings, but we recommend planting them on loose potting soil to make it easier for the plant to develop a healthy rooting system.
We recommend checking this article to give you the exact steps to produce healthy, high-quality seedlings and transplant them the right way to get the best growth.
Seedlings:
During this stage where the plant is  forming you'll have to provide a lot of nutrients for its growth to make sure that the tomato plant achieves two important things:
Seedlings need to get significant amounts of nutrients to become healthy, fully grown plants, and therefore less susceptible to catch diseases.

The bigger the early growth it achieves, the more it will produce high quality and quantity fruits.
The soil's quality in which the plant is grown is the defining factor here. So we suggest a good preparation for the ground and taking the best care for your seedlings.
Fully grown plants:
After the plant achieves full growth and begins flowering, it will need the most nutrients to produce healthy, rich fruits, so we suggest that you get the plant the fertilization it needs to concentrate on growing the best possible fruits.
As we suggest in our article, on the best way to get the best quality tomatoes, you'll need to provide fertilization every week when the plant is starting to produce fruits until the end.
Now let's go deep into each of the nutrients one by one: here, we can give you some ways you can tell if your soil has the necessary nutrients to it and in what phase you will have to add the missing ones.
How do you know which nutrient has deficiencies?
if there are deficiencies of any nutrient, leaves will show you the signs by scorching or go brown and roll up inward or downward and in order for you to be capable of reading those signs we made a representation of all the deficiencies that could happen depending on each nutrient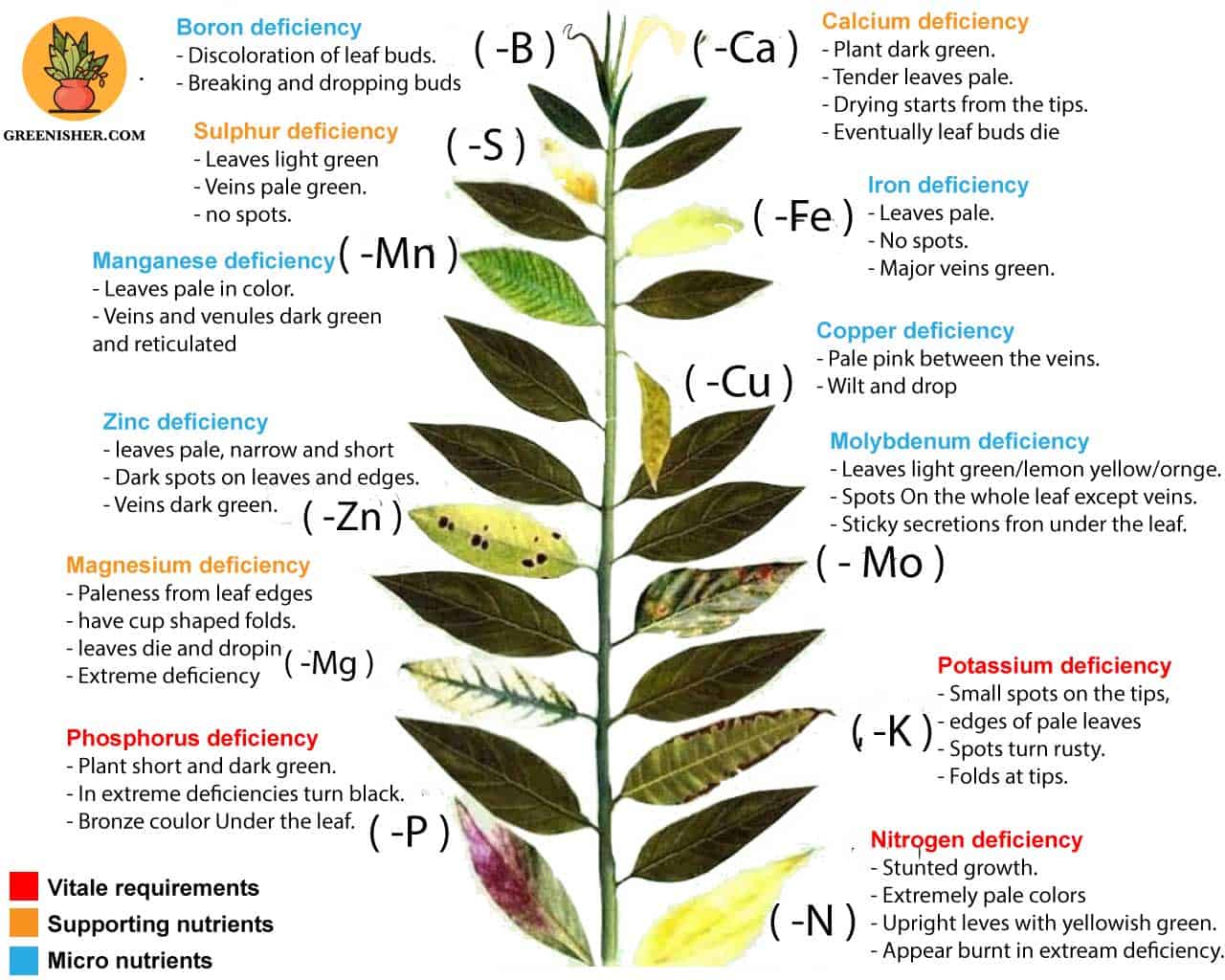 How to bring Nutrients back to the soil?
Our first solution to bring back the nutrient to your soil is to get the cycle of nature repeating but making sure you are not wasting those valuable scraps that could be used as a long term solution: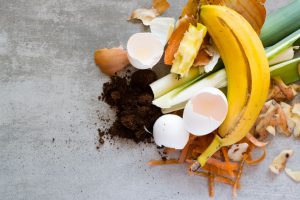 Kitchen Scrap
Put your kitchen and garden waste to work by making your compost. Compost releases nutrients slowly, which means a well-composted garden can go a year or two without requiring fertilizer reapplication. Compost also helps the soil retain moisture, which is essential for vegetable gardens to thrive during hot, dry summers.
Coffee Grounds
Coffee grounds come with a lot of uses, but one of their best is as a fertilizer. Many plants, such as blueberries, rhododendron, roses, and tomatoes thrive best in acidic soil. Recycle your coffee grounds to help acidify your soil. There are a couple of ways to do this— you can either top dress by sprinkling the used grounds over the surface of the soil, or you can make "coffee" to pour on your gardens. Soak up to six cups of used coffee grounds for up to a week to make garden coffee, then use it to water your acid-loving plants.
Eggshells
If you've ever used lime in your garden, then you know it comes with lots of benefits — chiefly, it helps lower the acidity of your soil for plants that don't like acid, and it provides plants with lots of calcium, which is an essential nutrient. Wash out the eggshells from your kitchen, keep them, and crush them to use in your garden. It turns out that eggshells are 93% calcium carbonate, which is the scientific name for lime. 
Banana Peels
We eat bananas for their potassium, and roses love potassium too. Bury peels in a hole alongside the rose bush so that they can compost naturally. As the rose grows, bury the peels into the soil's top layer. Both of these approaches will provide much-needed potassium for the plant's proper growth. Read about composting here.
Tree Leaves
Rather than bagging up the fall leaves and putting them out on your curb, collect them for your gardens instead. Leaves are rich with trace minerals, they attract earthworms, they retain moisture, and they'll help make heavy soils lighter. You can use leaves in two ways: Either till them into your soil (or mix crushed leaves into potting soil), or use them as a mulch to fertilize your plants and keep weeds down.
Grass Clippings
If you have an organic lawn, make sure to collect your grass clippings to use on your gardens. Half an inch to an inch of grass clippings makes a great weed-blocking mulch, and it is also rich in nitrogen, which is an essential nutrient for most plants.
Weeds
Just like grass clippings, many of the weeds that you'll find in your gardens are very high in nitrogen and will make an excellent fertilizer. The problem is, once you've pulled the weeds, you certainly won't want to put them back in the garden because any seeds will sprout and make new weeds. The solution? Make weed tea. To do this, fill a five-gallon bucket no more than 1/4 full of weeds that you've pulled. Then fill the bucket the rest of the way with water, and let the weeds soak for a week or two. Once the water turns nice and brown (like tea), pour this weed tea on your gardens.
Manure
Manure comes from a variety of sources — cows, horses, chickens, and even bats. Each type of waste is high in nitrogen and other nutrients, but you'll need to use it carefully. Raw manure is highly acidic and may have more nutrients than your plants need, so too much can burn your plants. It's best to use composted manure. Since it is less nutrient-dense and acidic, you can use more of it to improve your soil's water retention without risking your plants. You won't have to wait long—manure quickly turns to a perfect odor-free soil amendment.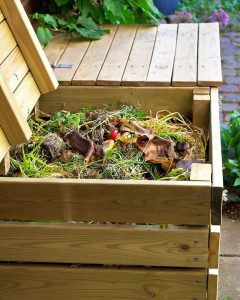 All the above; Compost.
Compost in a gold mine of nutrients that gives a variety of totally organic matters benefiting the pant in all aspects of its growth.
Of course, compost is not the go-to solution if, for example, you have a deficiency problem with your actual tomato plants; its efficiency is seen in the long run, so you can use it to work the soil and fill it with the right nutrients right from the beginning of the season
because food scraps produce compost, nutrients on it will depend on the things you provide it with, so make sure you follow the rules to make good quality compost.
Raw materials
You can add many other amendments to the garden to boost your harvest and improve your blooms. Raw materials created from the grinding of dry, organic materials speed the decomposition process for microbes and help convert the elements more readily. Use these raw materials individually or combined to achieve multiple benefits. You can find most of these products at your local garden center, feed supply store.
Raw organic fertilizers and their uses:
Organic alfalfa (2,5:0,5:2,5) A non-burning source of nitrogen and contains the naturally occurring growth hormone, Triacontanol, boosts seedlings' growth rates.
–Corn gluten meal (8:0:0) Fertilizes lawns and shrubs while preventing weeds from emerging. Helps properties develop deeper roots and require less watering.
–Bone meal (4:12:0) Boosts root growth at transplant and benefits at fruiting.
–Fish bone meal or Fish meal : Non-burning source of nitrogen and trace elements. Also, an excellent soil conditioner.
–Greensand (0:2:5) Contains glauconite, which is high in iron, potassium, and magnesium. It also helps loosen soil, improve moisture retention, soften hard water, and increase root growth
How to replace each nutrient?
Watch this short video to know more about each nutrient and ways to replace its defficiency.
The big three:
Nitrogen, Phosphorus, and Potassium are Vital nutrients to the tomato plant, but you should test and see if your soil has them already or does it have deficiencies in one of them.
(NPK) is the abbreviation for Nitrogen, phosphorus, and potassium.
if you have balanced soil and you provide compost regularly you don't want the soil to have an excess of nitrogen it might result in a lush (very few tomatoes) it's better to use a solution that is lower in nitrogen you'll find it labeled in the package that NPK is 5-10-5 or 5-10-5. here is an article to show you all the fertilizers depending on every situation.
Nitrogen:
Nitrogen Is essential for every leafy plant to grow the leaves and therefore, the plant; helps the plant's cell growth and chlorophyll production.
You can diagnose the lack of it by watching your plant and seeing if they have slow or spindly growth by spotting the old lower leaves turning yellow and dying.
Last season's results also might tell you a lot about your soil's actual situation; if the growth was right, and you didn't have dying leaves by the end of it, your soil is balanced and has adequate amounts of Nitrogen.
Compost is one of the richest compositions on Nitrogen as it is composed mainly of it.
Phosphorus:
Phosphorus is one of the components that help the plant grow and have healthy roots cope with stress, and add energy production for the fruits to ripen.
lack of it will result in slow growth, the leaves turning blue, or the fall of the fruits in some cases
Compost actually will have reasonable amounts of phosphorus, mainly if it contains many banana scraps; otherwise, you should supply it regularly as the fruits begin to grow as needed at the beginning and the end.
Potassium:
potassium is vital for flower development, photosynthesis, and fruit growth, and it also helps prevents some sorts of diseases
if there are deficiencies of it, leaves will show signs of scorching the might go brown and roll up inward or downward
Supporting trio:
Calcium:
Tomatoes are considered more nutritious if they have higher amounts of it, and it helps cell health to make them more protected against diseases and bruises.
Lack of it shows long leaves cutting inward and lacking colors; it's generally a sign that the soil is acidic and will cause (blossom end root) syndrome.
Magnesium and Sulfur:
Magnesium is needed in photosynthesis and chlorophyll production really on it to help their overall quality.
Sulfur is needed for proteins and amino acid consumption from the soil.
The absence of those two nutrients will harm the growth and causes yellow leaves, resulting in a disease called "interview chlorosis."
Micronutrients:
A tomato needs those micronutrients in small quantities to help serve many smaller purposes. Some examples are:
Molybdenum: helps tomatoes use Nitrogen efficiently
Zinc: Regulate the growth and promote proper sugar consumption
Boron: assists tomatoes in making use of nutrients and is also essential for the development of fruits and seeds
And there are still a lot of nutrients needed for a good tomato plant development like Iron, Chloride, Copper. But those secondary nutrients could be provided by organic matters such as grass cuttings, old leaves, and mulch; As you spread them on top of the soil to keep an adequate moisture level and slowly decompose to provide those nutrients for your plants.