Every fertilizer that you add to your edible plants will contribute to making your food, next time you say you have an organic garden see what those fertilizers contain.
Food that you eat is for your body to use as a source of nutrients for its growth, start by asking yourself if this product is going to affect your health and try to read about the effect of its component on the human body in the long term use.
Well, today, we are bringing you alternatives for synthetic fertilizers, a list of recipes and products that you can use without harm to provide a ton of nutrients to your plants and body.
Things you should consider:
The type of fertilizer you choose depends on the kind of soil that you have. So don't choose based on popularity what works for others may not work for you:
You should have good knowledge of your soil:
Here are some steps you could use to get every information you need to know about your soil to be able to give it the requirement that it thrives for:
First, what type of soil do you have
What type of soil do you have? (clay, sand, or loam) Loam is considered the best of all, but most of us combine all three, with either clay or sand featured more prominently.
Sandy soils are excellent with drainage, almost too great, but have difficulty holding nutrients. Clay soils are fertile but have drainage issues and are really hard to work.
Second, what nutrients does it need?
If you don't know what nutrients your soil is missing, do a quick test to be sure. They don't cost much and are usually done through your local horticulture extension or buy home test kits. Check soil test kit here
The main ingredients in most fertilizers are nitrogen, phosphorous, and potassium (NPK), but the percentage of each component in all types of fertilization varies greatly. What one plant thrives on another may not need, so use the manufacturer's suggestions if you buy a packaged fertilizer to see which type of plants it is made for.
Third, How about the PH levels?
Your soil's PH levels and the fertilizer you present might be working against the plants rather than helping them!
For example, if a plant shows signs of phosphorus deficiency and the soil is too acidic, it wouldn't matter how much phosphorus fertilizer you apply. Your plants won't be able to use them.
A neutral pH or slightly acidic for vegetables allows the fullest availability of nutrients to all plants.
To adjust the soil's pH, you'll need to determine the pH according to a soil test. From there, you can add either lime or sulfur, depending on whether you want to raise or lower the pH.
After doing the pH test, check this article on how to change your soil's pH levels.
Note that fertilizing your vegetables only helps if the cause of the low growth/production is a lack of nutrients in the soil. Other factor such as shade, watering … can't be fixed by fertilizing. 
Types of Fertilizers
Fertilizers could be characterized by two categories organically and synthetic here in this article; we are going to cover most of the organic options that you have:
Organic fertilizers:
Organic fertilizers are made from products that are derived from natural sources. Organic fertilizers can carry water and nutrients and also amend your soil. Moreover, they are biodegradable, renewable, and environmental friendly. Since it is a slow-release fertilizer, there is no chance of over-fertilizing or creating toxic salts in your soil. The nutrients in these types of natural fertilizers are not refined or extracted; you can find them in these three types:
Powders:
Fish and plant meals are beneficial to gardeners who want finer granules to work into the soil and if they plan to mix them with other organic ingredients to make a custom fertilizer.
Granules:
Many tend to sprinkle the contents over the soil and then wait for it to be broken down and then absorbed, but this isn't how to use them! You should try mixing them with the soil before transplanting, they slowly break down to feed the plants continuously
Liquids:
Most liquid products are sold in the concentrated form and need to be diluted with water. If you want to put your fertilizer in a spray bottle to spray the foliage or if you need to feed regularly as you water, then liquid fertilizers are an excellent choice.
Organic fertilizers work differently than chemical fertilizers, and it will take longer for you to see the results since they have a slow-releasing paste. Because they rely more on microorganisms and nature to help them break down, it can be frustrating to the impatient gardener who wants to see immediate results.
Synthetic Fertilizers
Some information about Synthetic fertilizers:
they are derived from the petroleum industry and tend to be acidic they serve the macro level of nutrition needs for the plants providing (NPK)
Some fertilizer blends offer secondary nutrients of calcium, iron, molybdenum, sulfur, and magnesium, but almost none contribute to the complete spectrum of micronutrients a plant needs for complete growth.
They work faster than organic fertilizers, but that benefit comes with a side effect. They can slowly drain all the other nutrients from the soil and, in the end, might start to decrease the growth of the plants.
Synthetic fertilizers do nothing to sustain soil health since they do not replenish any trace elements depleted from the garden beds' continuous cropping.
The increases in the release of greenhouse gases, upsets the beneficial microbes needed by the plant, and acidifies the soil.
The danger of over-fertilization due to the excessive availability of nutrients in chemical fertilizers which builds up toxic substance that are harmful to your health
Alternatives to bring nutrients
Our first solution to bring back the nutrient to your soil is to get the cycle of nature repeating but making sure you are not wasting those valuable scraps that could be used as a long term solution: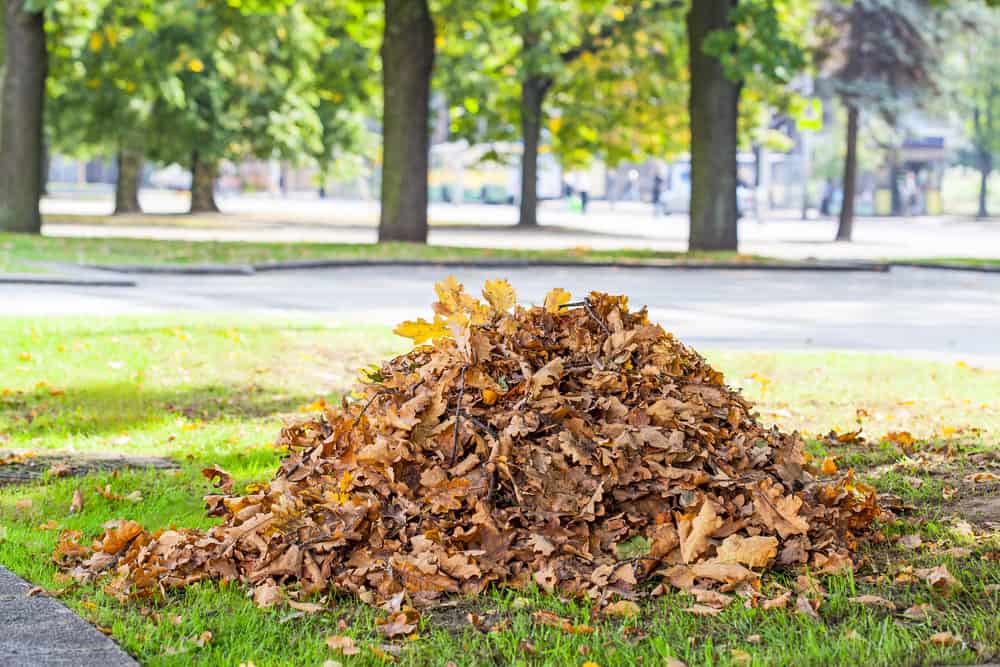 Tree Leaves
Rather than bagging up the fall leaves and putting them out on your curb, collect them for your gardens instead. Leaves are rich with trace minerals, they appeal to earthworms, they preserve moisture, they usuallyassist make heavy soils lighter. You can use leaves in two ways: Either till them into your soil (or mix crushed leaves into potting soil), or use them as a mulch to fertilize your plants and keep weeds down.
Grass Clippings
You probably havelawn waste, so be sure to gather your grass clippings to use in your garden. Half an inch to an inch of grass clippings makes an ideal weed-blocking mulch, and additionally it is rich in nitrogen, which is an important nutrient for all crops.
Weeds
Just like grass clippings, many of the weeds that you'll find in your gardens are very high in nitrogen and will make an excellent fertilizer. The problem is, once you've pulled the weeds, you certainly won't want to put them back in the garden because any seeds will sprout and make new weeds. The solution? Make weed tea.
To do that, fill a five-gallon bucket not more than one-fourth filled with weeds that you simply've pulled. Then fill the bucket the rest of the way with water, and let the weeds soak for some weeks. As soon as the water turns brown (like tea), pour this weed tea in your gardens.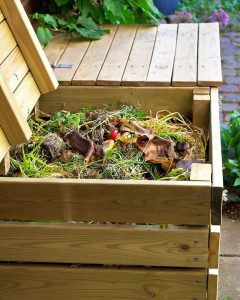 Kitchen Scrap
Put your kitchen and garden waste to work by making your compost. Compost releases nutrients slowly, which means a well-composted garden can go a year or two without requiring fertilizer reapplication. Compost also helps the soil retain moisture, which is essential for vegetable gardens to thrive during hot, dry summers.
Manure
Manure comes from a variety of sources — cows, horses, chickens, and even bats. Each type of waste is high in nitrogen and other nutrients, but you'll need to use it carefully. Raw manure is highly acidic and may have more nutrients than your plants need, so too much can burn your plants. It's best to use composted manure. Since it's much less nutrient-dense and acidic, you should use extra of it to enhance your soil's water retention without risking your crops. You won't have to wait for a long time because manure rapidly turns to an ideal odor-free soil amendment.
Coffee Grounds
Coffee grounds include plenty of uses, however, one among their greatest is as a fertilizer. Many crops, similar toblueberries, rhododendron, roses, and tomatoes thrive in acidic soil. Recycle your coffee grounds to assist acidify your soil. There are a few methods to do that, you'll be able to either apply it by sprinkling the used grounds over the top of the soil, or you can also make "coffee"to pour on your gardens. Soak up to six cups of used coffee grounds for up to a week to make garden coffee, then use it to water your acid-loving plants.
Eggshells
If you've ever used lime in your garden, then you know it comes with lots of benefits — chiefly, it helps lower the acidity of your soil for plants that don't like acid, and it provides plants with lots of calcium, which is an essential nutrient. Wash out the eggshells from your kitchen, keep them, and crush them to use in your garden. It turns out that eggshells are 93% calcium carbonate, which is the scientific name for lime.
Banana Peels
We eat bananas to get some potassium, and roses love potassium too. Bury peels in a hole alongside the rose bush so that they can compost naturally. Because the rose grows, bury the peels into the soil's high layer. Both of these approaches will provide much-needed potassium for the plant's proper growth. Read about composting here.

All the above; Compost.
Compost in a gold mine of nutrients that gives a variety of totally organic matters benefiting the pant in all aspects of its growth.
Of course, compost is not the go-to solution if, for example, you have a deficiency problem with your actual tomato plants; its efficiency is seen in the long run, so you can use it to work the soil and fill it with the right nutrients right from the beginning of the season
because food scraps produce compost, nutrients on it will depend on the things you provide it with, so make sure you follow the right recipe to make good quality compost, here is an article about it
Raw materials
You can add many other amendments to the garden to boost your harvest and improve your blooms. Raw materials created from the grinding of dry, natural supplies speed the decomposition process for microbes and assist convert the elements extra fast. Use these raw materials individually or mixed to attain multiple benefits.
Raw organic fertilizers and their uses:
Organic alfalfa (2,5:0,5:2,5) A non-burning supply of nitrogen and incorporates the naturally occurring development hormone, Triacontanol, boosts seedlings' progress rates.
–Corn gluten meal (8:0:0) Fertilizes lawns and shrubs while preventing weeds from emerging. Helps properties develop deeper roots and require less watering.
–Bone meal (4:12:0) Boosts root growth at transplant and benefits at fruiting.
–Fish bone meal or Fish meal : Non-burning source of nitrogen and trace elements. Also, an excellent soil conditioner.
–Greensand (0:2:5) Contains glauconite, which is high in iron, potassium, and magnesium. It also helps loosen soil, improve moisture retention, soften hard water, and increase root growth